Hall of Fame
Fishing Experiences of a Lifetime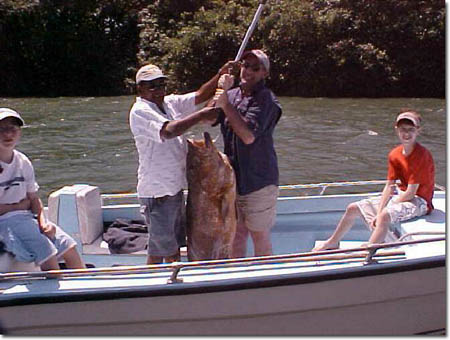 RECORD CUBERA ON CRUISE SHIP STOP OVER
We issued the challenge to get the "Monster" that was stripping our reels of 50# line in the Belize River. That challenge was met by a 12 year old Tyler from Bastrop, Texas in a dramatic 15 minute "run the reel off 4 times" fight. This 100+ pound monster was finally gave up on the 80# test line and Mann Stretch +30 lure. Tyler (left) was accompanied by his younger brother Byden (right) and his father Terry. It is fortunate this monster didn't jerk Tyler right out of the boat! Congratulations Tyler, Byden, and Dad for a great catch in the Action Belize Waters! Terry indicates he will probably be back for an extended fishing package!
This catch was only 15 minutes from the cruise ship dock!!
OFFICIAL WORLD RECORDS SET IN BELIZE
Certified by the IGFA (International Game Fish Association)
2 NEW IGFA CERTIFIED CUBERA WORLD RECORDS!!